Exposure to Ultra-Violet Light

Exposure to Ultra-Violet Light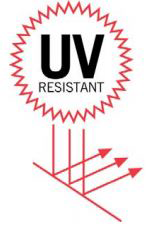 Performance of cable ties and their associated fixing devices constructed of polymeric materials can be adversely affected by exposure to ultra-violet (UV) light.  The most common form of exposure is from direct and indirect sunlight.
UV exposure eventually results in material oxidation, diminishing the performance characteristics of the material. A wide variety of cable tie products made from UV resistant materials are available that prolong the life cycle of the product. These solutions range from common UV modified polymers to specialized materials.
Manufacturers are often asked: "What is the life expectancy of a cable tie when exposed to sunlight?" This is a difficult question to answer because of the variety of applications and other variables. Cable ties that are molded from UV resistant materials have consistently met the reasonable expectations of a wide variety of users in diverse applications. A cable tie made from a material without UV resistant properties should however, not be relied upon where safety or longevity of service is a consideration in its application.
Some materials used to mold cable ties and associated fixing devices have declared resistance to UV light. This resistance has either been determined by testing conducted by the material manufacturer or through independent third party test laboratories. The present standards for cable ties require additional testing for resistance to UV light conducted on the completed product. Although there are different exposure methods that can be used to represent actual sunlight exposure, the xenon-arc light source is increasingly recognized as providing the closest representation. The xenon-arc light source exposure method is found in ISO 4892-2 (method A) which is essentially harmonized with ASTM G 155 (Method 1). The test for cable ties consists of 1000 hours of continuous exposure to this light source, and intermittent exposure to water spray. Following this UV light exposure, cable ties and fixing devices are subjected to mechanical tests to determine any degree of degradation.
Another question that is often asked of manufacturers is: "Are black colored products the only ones that are resistant to ultra-violet light?" The simple answer is no. Carbon black has often been used to provide UV resistance in polymeric materials, thus the perception that black cable ties are the only ones that are UV resistant. However, there are black color cable ties that do not have proven UV resistance. Today there other UV absorbing pigments, allowing for cable ties of other colors besides black.
How do you identify if a cable tie or fixing device is UV resistant? NEMA member companies provide clear marking on their packaging to reflect that the product is "UV resistant", or equivalent wording. An example would be products marked for "outdoor use".
The manufacturer should always be consulted if there is a question about the proper application of a cable tie or associated fixing device.
NEMA members provide high value, consistent quality, safe and efficient use for cable ties and their associated fixing devices that meet the expectations of a wide variety of users. Visit us at NEMA Information for Cable Ties for current information on our industry and for the names of NEMA member cable tie manufacturers.
NOTICE AND DISCLAIMER
The information in this publication was considered technically sound by the consensus of persons engaged in the development and approval of the document at the time it was developed. Consensus does not necessarily mean that there is unanimous agreement among every person participating in the development of this document.
The National Electrical Manufacturers Association (NEMA) standards and guideline publications, of which the document contained herein is one, are developed through a voluntary consensus standards development process. This process brings together volunteers and/or seeks out the views of persons who have an interest in the topic covered by this publication. While NEMA administers the process and establishes rules to promote fairness in the development of consensus, it does not write the document and it does not independently test, evaluate, or verify the accuracy or completeness of any information or the soundness of any judgments contained in its standards and guideline publications.
NEMA disclaims liability for any personal injury, property, or other damages of any nature whatsoever, whether special, indirect, consequential, or compensatory, directly or indirectly resulting from the publication, use of, application, or reliance on this document. NEMA disclaims and makes no guaranty or warranty, expressed or implied, as to the accuracy or completeness of any information published herein, and disclaims and makes no warranty that the information in this document will fulfill any of your particular purposes or needs. NEMA does not undertake to guarantee the performance of any individual manufacturer or seller's products or services by virtue of this standard or guide.
In publishing and making this document available, NEMA is not undertaking to render professional or other services for or on behalf of any person or entity, nor is NEMA undertaking to perform any duty owed by any person or entity to someone else. Anyone using this document should rely on his or her own independent judgment or, as appropriate, seek the advice of a competent professional in determining the exercise of reasonable care in any given circumstances. Information and other standards on the topic covered by this publication may be available from other sources, which the user may wish to consult for additional views or information not covered by this publication.
NEMA has no power, nor does it undertake to police or enforce compliance with the contents of this document. NEMA does not certify, test, or inspect products, designs, or installations for safety or health purposes. Any certification or other statement of compliance with any health or safety-related information in this document shall not be attributable to NEMA and is solely the responsibility of the certifier or maker of the statement.