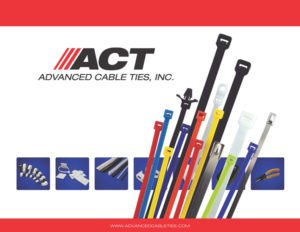 Advanced Cable Ties is proud to announce the release of a comprehensive full-line catalog to support our distributor growth efforts. This 35-page product bulletin highlights updated, easy-to-read product specifications and recent new product introductions including:
Nylon 12 Solar products
Heavy Duty Screw Mounts
Patented Cable Tie Removal Tools
Also featured in the new catalog is an updated color selection including 14 different colors in 7 different sizes. Advanced Cable Ties is known globally for the vibrancy and consistency of all available colors.
Color Cable Ties                  Nylon 12 Solar & Cold Weather           Removal/Installation Tools
While we are pleased to present this update, we are committed to continued product expansion to support the growing demand for Advanced Cable Ties products. Our new product introduction schedule is filling in quickly. In the coming weeks, you will receive additional announcements of product innovations.
2017 was an extraordinary success for Advanced Cable Ties and 2018 is already shaping up to be another record-setting year. We appreciate your continued support and we value our long-standing partnerships and the new friends we make along the way.
To receive your copy of our new catalog, please contact customer service or your local sales representative.