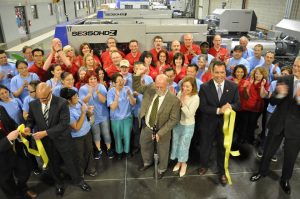 Advanced Cable Ties, Inc. is pleased to announce that we held a ribbon-cutting ceremony for the grand opening of our new expansion on June 16, 2016.
We were delighted that Massachusetts Governor Charlie Baker, and some of his staff, agreed to join our celebration. Our dream of expanding this facility was made possible in part by him.
City of Gardner Mayor, Mark Hawke, was also on hand to offer a few remarks.
The new addition almost doubles our current size, allowing us to streamline manufacturing processes and store a larger inventory. The increased efficiency will enable us to keep costs down while continuing to provide exceptional customer service.