The Formula SAE competition is for SAE student members to conceive, design, engineer, fabricate and race a small high-performance formula-style race car.
The vehicles are built with a team effort over a period of nine months and compete against approximately 120 other colleges and universities throughout the world.  The end result is a great experience for young engineers and automotive professionals within a dedicated team environment.  In order to accomplish this goal, team members must use the engineering and project management knowledge combined with work experience that they have gained throughout the course of their education.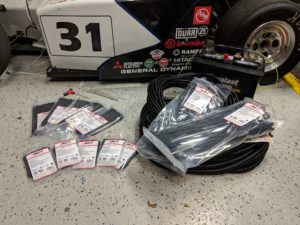 Students receive an opportunity to work with companies on specific projects and gain valuable industry experience.
To assist in enabling the 2018-2019 Lawrence Tech team to meet the goal of building a powerful, responsive, cost-effective, and successful vehicle, Advanced Cable Ties recommended and donated cable tie products and accessories manufactured specifically to withstand the high temperatures and vibrations of a race car engine.
We wish the Lawrence Tech Formula SAE Team great success in pursuing and achieving their goal of participating and winning the 2019 Formula SAE competition!