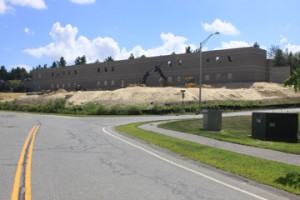 Advanced Cable Ties, Inc. (ACT) is proud to announce the expansion of their Gardner, MA manufacturing facility. The new 53,000 sq. ft. expansion almost doubles their current size of 61,000 sq. ft. and will allow them to continue their exceptional personalized customer service, backed by unsurpassed quality products and a provider of unique fastening solutions that enhance customers' businesses and products.
The company opened 20 years ago and offers a wide variety of patented products including mounting pads, low profile head cable ties, and cable tie removal tools.
The quality products come from design innovations and state-of-the-art molding equipment. The continual updating of the presses and molds enable statistically-controlled molding processes, ensuring consistent quality products. The quality lab continually monitors and analyzes tensile strengths, insertion forces, moisture levels, and color consistency. ACT's products are recognized by Underwriters Laboratories (File # E168851), CSA Approved (File # 207196), and meet or exceed U.S. Military Specification (Mil-S-23190). ACT has an ISO-9001:2008 Registered Quality Management System to maintain quality-oriented products and processes.
Their industry leadership is maintained by a total commitment to personalized customer satisfaction, building strong partnerships to promote productivity, innovation, and long-term profitability for their customers. ACT has surpassed customers' expectations by providing same or next day shipments by carrying a large inventory of products to fulfill their needs. ACT services over 30 markets and ships globally to accommodate their customers' numerous applications and locations. Customer satisfaction levels are measured annually and policies and procedures are adjusted to increase overall satisfaction.
After 20 years, ACT is still truly based upon the original core fundamentals of providing exceptional personalized customer service, backed by unsurpassed quality products.